Thanks for checking in on what I am up to.
Are you here because you want to be a better pet parent, providing your pet a healthier life? Or maybe you want to have more fun with your pet?
Great! Stick around. This is the place to be! You will want to hear what I do.
First, I love being in business for myself. I have a home office, I teach classes for pet parents, groomers, police and fire officers; all types of people who care for and love animals.
I have a Pet-Sitting business with a growing client base.
I have built a good income. I don't say this to brag, rather I want you to know that it can be done by anyone who is willing to commit to and put forth the effort required for success.
Does this sound like you? Possibly it is something you have always desired to do.
Before My Home Business
My background is similar to many, maybe even yours. I worked in retail America for 20 years. I did new store and remodel set-ups; I was a retail manager and later a corporate trainer. I was good at what I did; I had a promising career. I enjoyed the travel, I had fun but my time wasn't my own. I had a boss, a couple of weeks of vacation, health coverage and some "sick" days. I did not have much FREE time.
Several years prior to 2004, I moved back into a store location close by my home. I was the store manager. It was OK; after all I knew how to run an efficient operation. Early in 2004, I was offered a "golden handshake." I was told the corporation was closing stores and if I did not want to move to another location, which involved many extra daily miles in city traffic, I could select a severance pay bundle. I knew it was time for me to move on, enjoy life and liftoff with home-based companies.
I knew I enjoyed working with people. I have great management skills. I am good at organizing tasks. I knew the value of maximizing my time. I am competent. I believed these were all skills that would support me in beginning a thriving business.
Of course I had to do my research. I already knew my passion was working with animals.
I had worked with a few non-profit groups both part-time and as a volunteer coordinator. This helped me decide what kind of a business I could launch with pets.
I Value Learning
I've learned a lot over the years owning and operating this Pet Sitting service. Two things really stand out for me; developing self-confidence as an industry pro and taking responsibility to learn from experts.
Knowing my passion was a huge benefit; I recognized I had to do education and training. I began a search of likely business paths and from there discovered what skills I needed to add. I asked myself, "If I am going to become an expert in being a great pet parent and help others do the same, what do I need to know?
I took educational courses both on and off line. I traveled to get some of the best training possible.
I schmoozed with others in my areas of interest. I met the competition.
As a final point I honed in on becoming a pet-sitting pro!
Then I asked myself the all-important question, "Would others be at ease leaving their pets in my care?" In other words, would they have peace of mind, knowing that their pets were being cared for in the best way possible when they had to be away, perhaps on vacation or traveling for work?
Being Clear
Kathy and I had to be out-of-town for a convention. We had to find a solution for the "best care" possible for our two Chesapeake Bay retrievers. We explored possible pet sitter options and visited doggie care facilities. We even asked friends and neighbors how or if they could help. It became clear that our pooches required a level of care we had a hard-time matching. We decided on a top-notch lodging solution linked to a vet hospital.
Our thoughts, "If they can't be with us, they deserve a first class facility to make their time away safe and comforting."
We happily left for our five-day business jaunt!
At the beginning of the third day we received a call from the associated vet hospital. Our dogs had been "accidentally" placed in the same enclosure at dinner time. They had a "competition for food." Both were injured and in the vet hospital.
While it wasn't clear to us in that moment, A NEW WAY TO LIFE Pet Sitting was born.
We cut our trip short and returned home.
To make matters worse; the entire stay for our pets topped, by several times, the original estimate of cost. To make matters worse, the pet lodging facility was unwilling to accept any financial responsibility for their blunders; I called that "crummy customer service."
A NEW WAY TO LIFE'S Customer Service
I believe in giving clients "the best service and care possible." After all your furry-one is your everyday companion. When you need to be away you will have peace of mind knowing your "best friend" will be in its own home, with a routine and surroundings that assure comfort. Your four-legged(s) will have quality time and exercise. Your companion's activities will be keenly observed so if veterinary care is required, they will get it.
If you have a pet with "special needs" e.g. diabetic meds, wheelchair bound, recent surgery and chronic illnesses, we are trained to manage those challenges.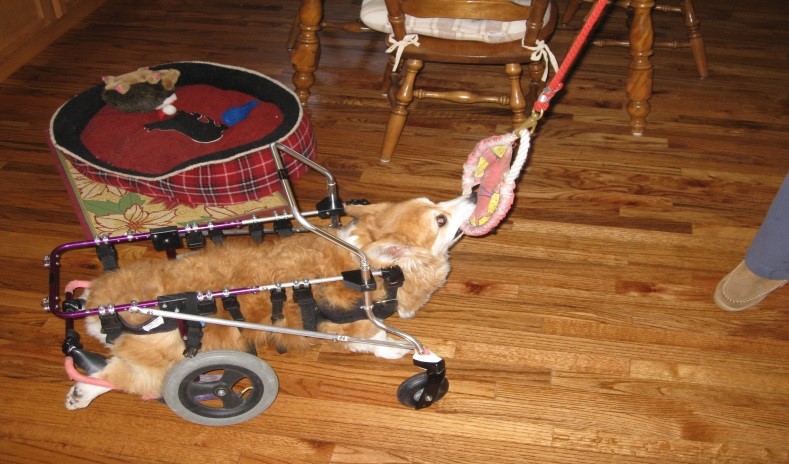 Gweni (shown here) was a "special needs" dog diagnosed with Canine Degenerative Myelopathy.
Note: It is an irreversible, progressive disease of the spinal cord that cannot be cured.  There are no treatments that have been clearly shown to stop or slow progression.